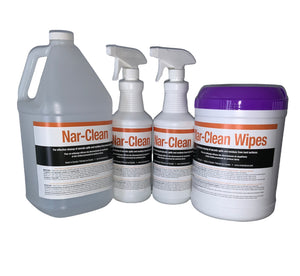 Nar-Clean Savings Bundle - Free Shipping!
Mix and Match Nar-Clean products and save $15 plus Free Shipping in Canada!
946ml Sprayers x 2
4 litre Re-Fill Jug
250 Wipes
Effective clean-up of narcotic spills and residues from hard surfaces.
Clean up opioid powder spills such as fentanyl.  Excellent for cleanup of liquid narcotic spills also.  An essential product to keep near property, storage, intake, drug processing and evidence areas.
Easy and safe to use:
No mixing required

Non corrosive
Non flammable
Leaves no residue
Contains no bleach
Low volume peroxide oxidizer and surfactant
Neutral pH (6.5)
Non-toxic
Made in Canada.  No mixing, ready to use.  Follow instructions on label.