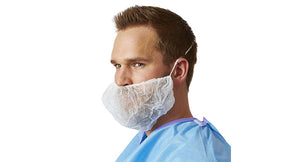 Barf Scarf Vomit Barrier - 25 Pack
Barf Scarf vomit barrier is made of soft polypropleyne, and protects your vehicles and facilities from vomiting prisoners.  Easily fits over the head and secured by an elastic band.  Comfortable and breathable.  
Single-use disposable barrier helps to protect officers, vehicles and facilities.
Each Barf Scarf is individually packed in a plastic baggie for storage in pockets, pouches, vehicles, etc.
Pack of 25.  One size fits most.