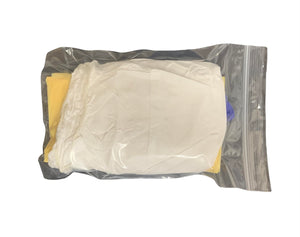 Bio-Safety Kit
Pocket-sized kit for immediate basic protection from biological hazards.
Perfect for crime scene investigators, and anyone who may be exposed to blood, body fluids, narcotic/opioid residues, insects, gross filth and contagious diseases.
Single-use components are one-size-fits-all:
- Splash proof gown that covers from neck to knees, with thumb-loops to anchor sleeves under gloves.
- Nitrile gloves, one pair, fentanyl safe
- Boot covers, one pair, fluid-resistant
- KN-95 rated mask
(Colour of gloves and gown subject to availability)