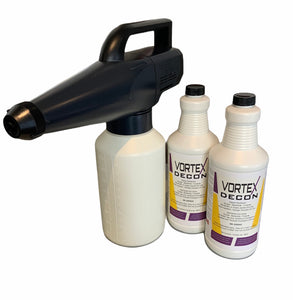 Black Knight Electrostatic Fogger + Vortex Disinfectant Combo (SALE)
$9999

$99.99

Save $199.01
---
---
Using state of the art negatively charged ions, the Black Knight blasts disinfectant at 8800 cu/ft per minute for full coverage.

1.8 litre bottle reservoir
20v rechargeable battery (included)
Charge time - 3hr
Work time - 25-30 minutes
Spray distance - 3m
Adjustible flow nozzle 50 - 70ml/ minute
Perfect for vehicles, classrooms, homes, offices, etc.
When used in conjunction with Vortex Decon disinfectant, actually purifies the air as well as electrostatically disinfecting surfaces.
Includes two 1-litre bottles of Vortex Decon disinfectant.  Just Spray and Walk Away!