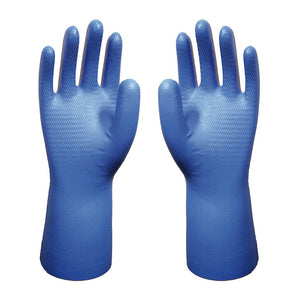 Chemical Gloves - Pair
A heavy-duty nitrile glove offering protection against chemicals whilst also being approved for handling food. Lightweight construction, it offers a 'second-skin' feel that facilitates excellent grip and dexterity. Minimizes cross-contamination risks.
Features
Prevents ingress from oils, greases and liquid
Reusable 
Protection from most chemical-based detergents
Superior dexterity and comfort even over a cut-resistant liner
Embossed tractor tread grip pattern
Easy to put on and remove
Approved for food handling
Thickness: 0.23mm
Length: 305cm
Sold as individual pairs - Large size fits most.