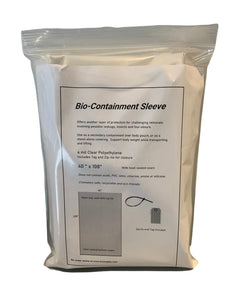 Smart Sleeve Bio-Containment Pouch
Smart Sleeve slips over existing body bag to seal in odours, fluids and insects.
Can be requested by homicide investigators to contain and preserve evidence and maintain chain of custody prior to post-mortem.
Increases effectiveness in containing fluids, odours and infectious diseases.  
Lightweight 4mil clear low-density polyethylene plastic with heat sealed end seam.  Other end sealed with zip-tie (included). 
Contains no PVC.  
Individually packaged in poly bags which can be used for personal effects.
40" x 108" includes one tag and zip-tie to enclose the open end.
Made in Canada