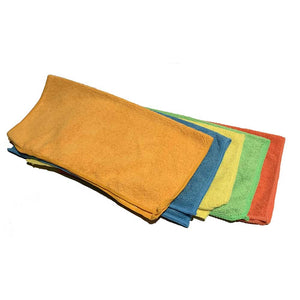 SMART Microfibre Cloth Pack
High-quality SMART microfibre cleaning and wiping cloths catch 88% more soils than regular cleaning towels.  That means surfaces are left cleaner and safer.
Colour-coded cloths prevent cross-contamination.  Use a different colour for different cleaning areas.  Great for home, work, or shop.  
Each pack contains 5 colour-coded microfibre cloths:  Red, Green, Yellow, Blue, and Orange.  Each cloth is about 11" x 11".  Super durable, highly absorbent, fast-drying, and scratch-free.
Can be machine washed hundreds of times in cold water.