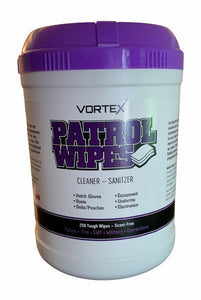 Handcuff and Equipment Cleaning Wipes
Patrol Wipes are ready for the messes and contaminants you pick up off the streets. 
Filth, blood, sticky gross smelly stuff that can accumulate on Handcuffs, Hatch Gloves, Boots, Belts and Equipment.  Use them to wipe down restraints, cell phones, lawyer phones, computer screens, radios and steering wheels.  Even that gross pen that the prisoners use to sign their release forms.  Removes fingerprint dust.
250 tough wipes infused with a safe Cleaner-Sanitizer that's easy on skin.  Odourless.