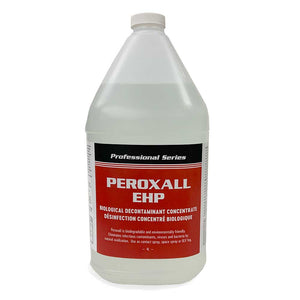 Peroxall EHP Cleaner Sanitizer 4 litre Concentrate
Peroxall EHP harnesses the natural cleaning, sanitizing and deodorizing power of 10% concentrated Enhanced Hydrogen Peroxide.  
A powerful decontaminant to treat biologically contaminated surfaces.  Destroys blood and urine immediately on contact.  Eliminates severe urine and decomposition odour sources.  Odourless and biodegradable. Excellent and safe for decontaminating and regular maintenance of problem areas.
Essential for treating cement floors, subfloors and substrates in water, sewage and biohazard losses.
Highly concentrated. Use with skin and eye protection.
Made in Canada.