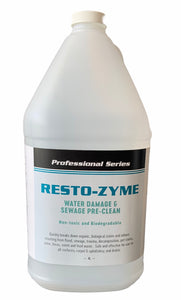 Resto-Zyme
Excellent intial treatment for digesting odours and soils, including urine, blood, bodily fluids and feces. Begins to digest organic soils and odours immediately.

Contains 4 strains of bio-engineered bacterial enzyme cultures with over 200 billion strains per 4 litre (1 gallon) jug.
Non-toxic.  Environmentally friendly.  
Heavy Loads:  Use full strength.
Moderate Loads:  Dilute 50% water.
Apply by direct pour or pump sprayer.
Made in Canada