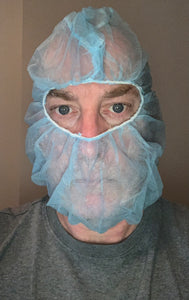 Spit Hood Balaclava - 25 Pack
Balaclava style anti-spitting hood is made of soft polypropleyne and has elastic at the neck and eye openings.
Easy and quick to slip over the head of an uncooperative detainee.
Single-use disposable hood deters spitting and biting by restrained detainees.  Helps to protect officers, vehicles and facilities.
Each balaclava hood is individually packed in a plastic baggie for storage in pockets, pouches, vehicles, etc.
Pack of 25.  One size fits most.